The Wye Island Electric Boat Race for 2006, scheduled for 11 AM on Friday, Oct 6 was officially cancelled due to NOAA gale warnings and small craft advisories for the region due to the nor'easter that was dominating the local weather. Winds of 63 mph were reported on the Bay Bridge.

I drove out to the Miles River Yacht Club and waited in my car on the pier by the ramp from 9 to 11:15 AM to warn others about the cancellation. I didn't even bother to get the eCanoe off the car. No one else arrived for the race. Looking out across the river, I saw only three boats go slogging by in the wind and pelting rain. I later spent the day exploring the Talbot County launch sites, including Wye Landing. Seems unfriendly to me - all county sites require a permit to launch or even park! In NC we are far more accommodating to boaters, and no permits are needed at most landings.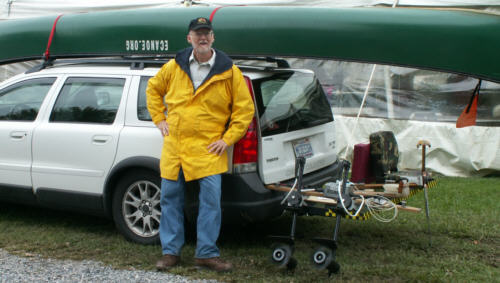 Saturday I demonstrated the eCanoe motors at MASCF. The weather was cold and windy, but the rain had stopped. I left the canoe on the car, but set up the motor system so people could see how differential steering worked. I had a LOT of interest, and gave out all the brochures I had. Afterward, a good meal at "Legal Spirits" in Easton warmed me back up after a cold day.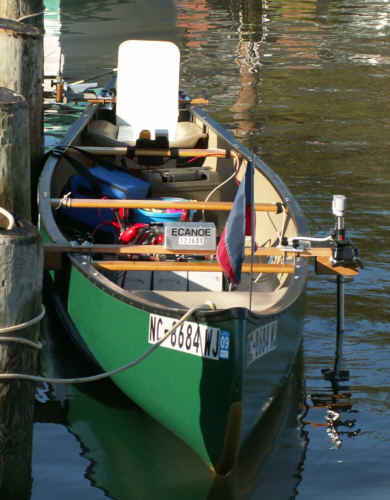 Loading eCanoe at St. Michaels Dock

By Sunday the weather had cleared, with sun and diminishing winds forecast. I put the eCanoe in at the St. Michaels town ramp (no permit required there) and ran the Wye Island course beginning at the red channel marker at St Michaels harbor. I bucked a strong headwind and chop on the northern leg, but things had calmed by the time I got to Wye Landing. The trip back was delightful until I was almost run down by a multi-million-dollar yacht charging down the Miles River at over 40 kts. Luckily it missed me by 50 ft, but the 5-ft cresting wake (which I hit straight-on) drenched everything with Chesapeake briny, and I had to bail out several gallons. Despite this mishap, the eCanoe ran the 24.2 miles (GPS trip miles) in 4:16 net, averaging 5.68mph for this modified course. A 36V battery hookup in triple parallel drove the single 24V Motorguide SW82 at 1.2 HP using electronic control. Battery changeover was not required with this setup.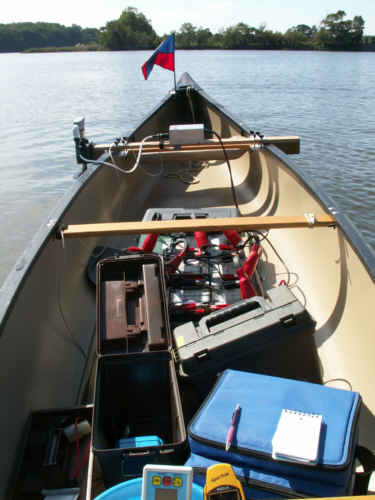 After the Wye Landing Break


That evening I had the pleasure to visit Onancock, VA (est. 1680) and its protected harbor. Fine eCanoeing country. Don't miss Mallard's Restaurant at the wharf. Great food after a hard day!

Paul Kydd showed up at the race site about 25 min late, and I missed him. He went on to run the race alone- Paul is tougher than I am! Here is his report:
------------------------------
"The Wye Island race is down to the hard core. As I think you know, Jim
Campbell was organizing it this year with the same terms as before. He said
it would be cancelled if there was a small craft advisory, but I didn't hear
that it was, so I went and ran the course in Prologue.
"Actually there probably was or should have been a small craft warning
because it was blowing 25, gusting 40 from the NNE, and it was as rough as I
want to see for that long. I was hoping it would calm down past the light
house, but it was just as rough for the next two miles until the turn east
around the island. After that it was calmer but still raining and cold.

"Coming back it was blowing just as hard but I was going with it, surfing on
the waves and making better time. Also I was protected from the wind and
rain, but I was glad to get back.

"The time was 4:39 gross, 4:29 net of the ten minute pause at Wye Landing.
Pretty good for the conditions.

"I injudiciously gave a tow to a sailboat from the launching ramp around to
the small craft festival and almost didn't make it, the wind was so strong I
could barely make headway. After that my 12 year old battery pack was
nearing exhaustion which I was curious to find out. It has lost about a
third of its capacity but still has plenty left.

"I didn't see anyone else there. Hope for better things next year.
Regards, Paul"

--------------------------------------

Concerning the race next year, we have to get more participants and make more of an impact on the scene at St. Michaels. If you can cruise at 5MPH or more for 24 miles, be there!

I am a bit worried about local millionaires with big fast boats and little common sense. This is the second time I have had a close call crossing the Miles River channel (see my report of the 2004 race). "The larger and faster the yacht, the bigger the jerk at the helm!" You can quote me on that... In the meantime, heads up when crossing the main channel!

Jim Campbell